Kate Hudson from Baristocracy shares the secrets from the speciality coffee scene
Kate Hudson from coffee roasters Baristocracy lifts the lid on her journey from the speciality cafés of Sydney, Australia, to opening her own business with partner Alex in North Shields
By Becky Hardy
Baristocracy is a family-run business, at the helm of which is you and your partner, Alex. How big of a role has coffee played in your relationship?
Alex and I met in Brisbane when I was travelling around Australia. We worked at the same café and, from the outset, I realised that café culture and coffee is a completely different animal in Aus than it is (or at least, was) here in the UK. At that point, I drank high street coffee with shots of syrup to make it palatable! Meeting Alex and becoming aware of the world of speciality coffee made me realise that when coffee is good, it is really bloody good – no sugar or syrup necessary. Over the course of our relationship, I've been there to cheer him on at barista competitions or to watch him judging the World Barista Championships. Who knew watching people pour latte art competitively could be so edge-of-your-seat exciting?!
Later, we moved to Sydney to be closer to Alex's family and we had our son. Cooper and I spent most of our weekends hanging out at the family café eating banana bread, sipping flat whites (milk for Cooper!) and watching the blue, orange and green lorikeets flitting around the coffee trees. Most of Cooper's earliest experiences centred around the café. Being cooed over by the customers, playing with a broken espresso machine, plunging his little hands into barrels of green coffee and watching his dad and grandparents run their business.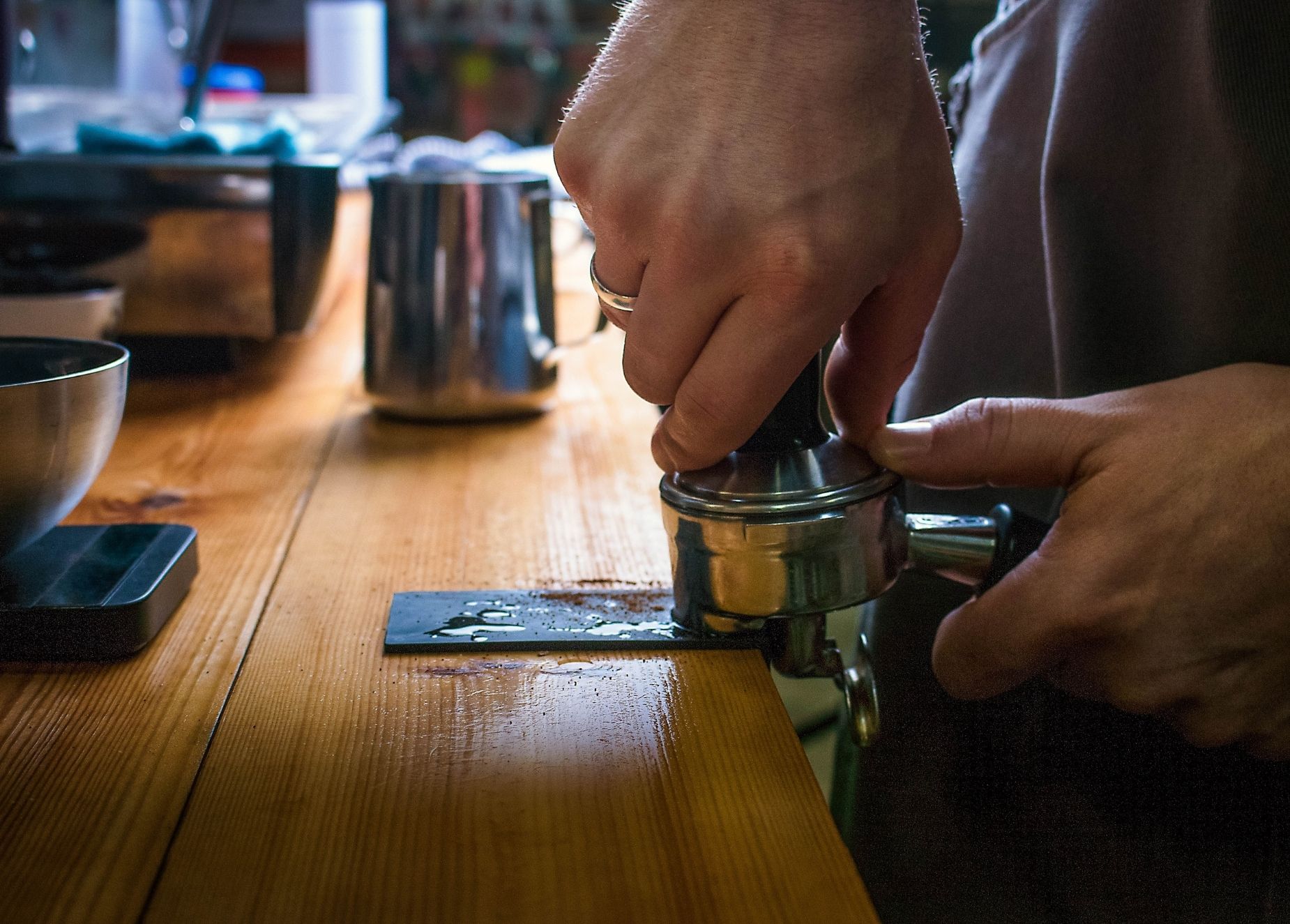 When did you start thinking about returning to the UK?
We began planning to open our own coffee roastery in 2015. We were torn between staying in Sydney and moving back to the UK but, in the end (and unsurprisingly), it became apparent North Shields would be a lot more affordable than Sydney! We also knew that the speciality coffee market in Sydney is flooded, whereas it was just beginning here, so it felt like there was a huge opportunity for growth.
It would be fair to say that coffee has allowed both of us to realise our dream of having our own business. While the work never stops and the line between home life and work life is very blurred, we feel so fortunate to spend so much time together. Our workspace is a second home for all four of us, and we're especially lucky to have been able to keep working throughout this very challenging year.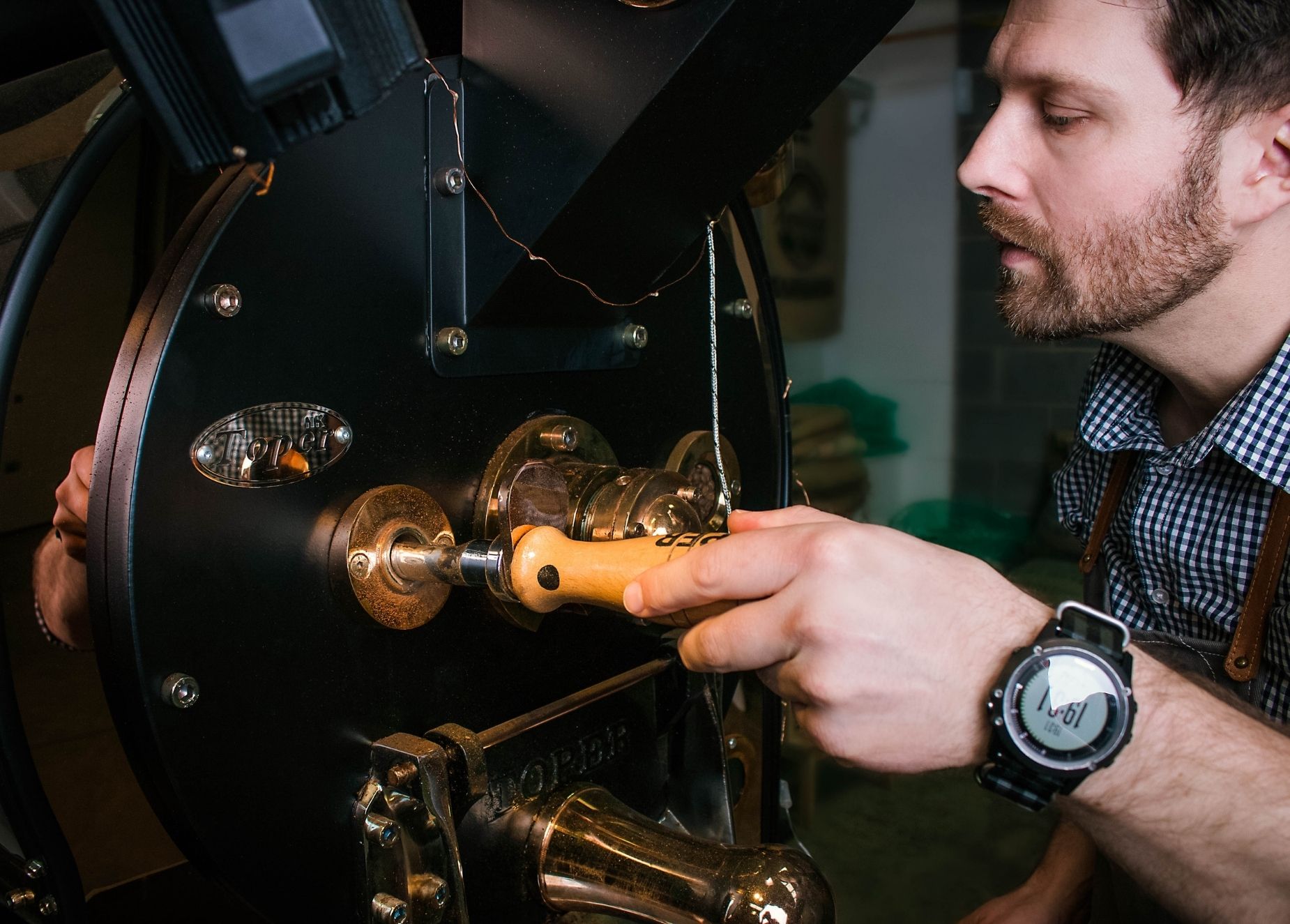 Alex has been roasting, blending and brewing coffee for most of his life, having learned from his father back in Sydney. How much does Australian speciality coffee expertise differ from what you're more likely to find here in the North East?
Being a barista is a respected career choice in Australia. Good coffee is so central to life there and consumers have such high expectations of quality in both the coffee and barista's skill level that it's not seen as a stop-gap job, but as a career with lots of potential. In the bigger towns and cities, most cafés are independents and use locally-roasted coffee from fellow small businesses. There's also a comparatively long-standing tradition of coffee education in Australia. Alex's dad, Rob Forsyth, is a founding member of the Australian Speciality Coffee Association, which now organises competitions, offers professional certification and helps drive the push for quality. High street brands that dominate the market here in the UK barely have a foot in the door in Aus as they can't compete on quality.
How would you describe the speciality coffee scene here in the North East? 
Burgeoning! It's really exciting to be a part of the speciality coffee scene here as it grows. Customers are so excited to try new things and the market is responding. We're really lucky to work with some of the best cafés and shops in the region, who offer delicious, imaginative food and want coffee to match. We really want the North East to be known for fantastic speciality coffee and it's certainly headed in the right direction.
Tell us more about your own background in coffee?
As a teenager and in my early twenties, I worked in a few different restaurants on the coast and in Newcastle. I used to be so proud of making towering cappuccinos with piles of fluffy milk! I feel so sorry for my former customers, they must have tasted horrible! I would never have considered drinking black coffee and always had syrup in a huge latte to make it drinkable. The standard of barista skill was quite the rude awakening when I was looking for work in Australian cafés. Needless to say, I was never allowed behind an espresso machine again!
In Sydney I had a La Marzocco to play on, in the basement of Alex's folks' café, so I started to learn more and practise under proper instruction there. I love to watch Alex working as it's absolutely second nature to him. He's a great teacher and his enthusiasm is infectious. But what I'm particularly interested in is the people who grow the coffee we buy. Their working conditions, remuneration for their crops, issues of forced labour and how they are supported to use sustainable agricultural practices. Speciality-grade coffee is particularly vulnerable to our changing climate, so it's really important that we, as roasters, continue to buy the more expensive, higher-quality green coffee.
Our main importer has built great relationships with the growers they work with and continues to help break down barriers to the international market, such as in Ethiopia, where lots of families grow coffee in their garden or small-holding and would struggle to sell their coffee for a good price without a co-operative. They champion women growers who, as a rule, tend to feed profits back into their communities – our Colombian coffee is grown by women – and they work with growers to improve access to sustainable technology. In the future, we would absolutely love to visit some growers and establish our own personal relationships with them. I love that we are a small, family business doing our best to honour the coffee grown by other small, family businesses all over the world!
How and where do you source your coffee?
We look for green coffee – that is, unroasted coffee beans (so-called because they are various shades of pale green) – that ticks several boxes: fairly paid growers; sustainably grown; community investment; and, of course, delicious and interesting flavour profiles. We love Ethiopian coffees, particularly from the Yirgacheffe region – they tend to be bright with a fruit-driven acidity that reminds us of coffee in Australia. We always include Ethiopia in our house blend as it adds such a lovely layer of flavour. We also like to have at least one chocolatey, nutty South American coffee to choose from, as they are real people-pleasers.
When we're ready to order, Alex looks over the available coffees and their tasting notes. We're sent samples all the time and have lots of fun tasting (or cupping, as it's known), to see what they're like. I never fail to be amazed by how different coffees can be, even when they're from the same region or neighbouring countries. Before pandemic life, we held cuppings where people could pop in to try their hand at tasting and evaluating a range of coffees. They were great events and we can't wait to get back to them!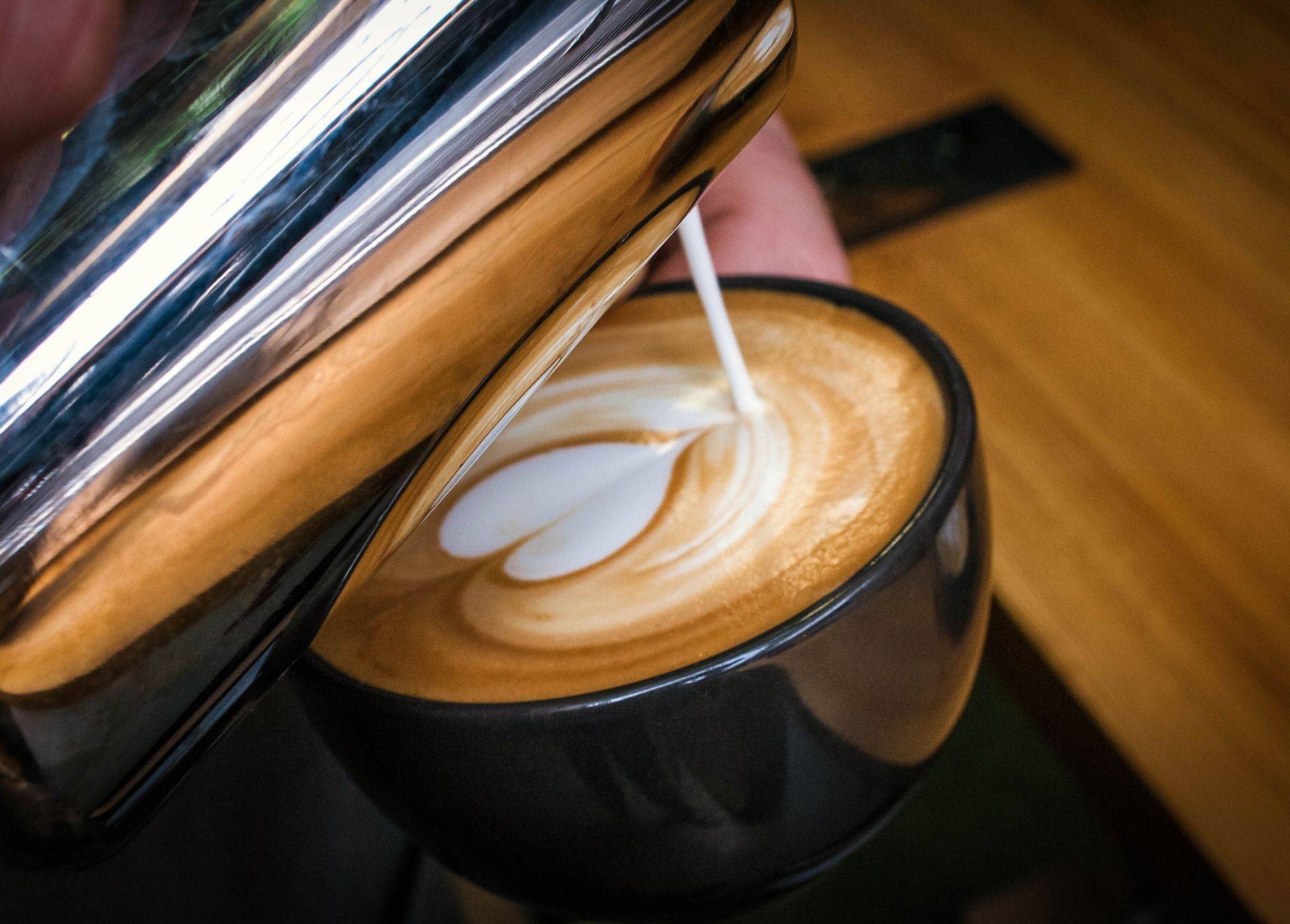 You also offer coffee education courses at Baristocracy – can you tell us a little more about these?
We offer both professional and at-home barista training. The professional courses are much longer and more in-depth, in order to prepare the participant for working in a busy café. The at-home barista course is designed to help everyone get the absolute best from the coffee and equipment they have at home. We've made our course super flexible so we can change it to suit the needs and experience of any participant. If customers have a home espresso machine and grinder, we encourage them to bring it all along so Alex can help calibrate everything and make sure they can get the best out of their machinery. Working out defects and troubleshooting is an important part of the course so that customers can work out what has gone wrong when their coffee doesn't taste right at home. Milk texturing and latte art is always a popular part of the class. Alex helps participants understand what is happening to the milk when it's heated, what happens when it's taken too far and how to get that perfect, silky micro-foam. We're happy to dedicate more time to the areas the participant is really interested in or wants to improve their skills in.
We also offer coffee appreciation courses and coffee cuppings. These are shorter events which help participants to develop their coffee vocabulary by trying lots of coffees and evaluating their flavours. We'll definitely be scheduling more of these as soon as it's safe to do so – they're so much fun and really interesting!
For those who have only ever made themselves a cup of instant but are keen to enter into the world of speciality coffee, what tips would you give to get them started?
Go at it with an open mind. Instant coffee and brewed coffee are two different drinks, kind of like fruit cordial and fresh fruit juice. There is a whole world of speciality coffee to explore and a range of flavours. There are also lots of different ways to make coffee which will result in a variety of intensities. Filter methods produce a longer, very drinkable, less intense cup which might surprise people who have only had instant at home or espresso-based drinks from a café. You may need to play around with different coffees to find the flavour profiles you enjoy – but that's part of the adventure. Over time, you may find your tastes change too. Even a year ago, I would never have imagined drinking black filter coffee every day. It's really useful to grow your coffee vocabulary so you can identify the flavours that you enjoy and those you don't. The better you understand what you like or don't like about different coffees, the more you have to go on when choosing new coffees to try.
How has COVID impacted the business? 
2020 was a wild ride, for sure! And 2021 isn't much better. When the first lockdown was announced, we were terrified that we'd lose the business. Along with millions of other families, we were trying to get our heads around looking after a two-year-old and home-schooling a five-year-old, missing family and friends, worrying about paying our mortgage, worrying about our wholesale customers and, of course, watching in dismay as COVID swept across the world, leaving tragedy in its wake. We planned for the business to essentially close down as everyone got their heads around lockdown but, pretty quickly, our retail orders started to go through the roof and we began weeks of home deliveries with the kids in tow. Once our wholesale customers started to open again we got into a bit of a rhythm and, as the dust settled, we started to feel more confident that we'd make it through.
Despite this being such a bleak time, there have been a lot of positives. We've been blown away by the support shown to small businesses. There has been a huge groundswell of people determined to help keep their favourite small businesses going. it's been just amazing to receive that support. It's been inspiring to watch our wholesale customers and countless other local businesses feel their way through this mess, dealing with the never-ending changes, coming up with takeaway-friendly menus and other ways to support their communities. While there's still no real end in sight, it's hard not to be optimistic about the future. Small businesses are integral to a strong economy and watching our community rally around them has been really inspiring.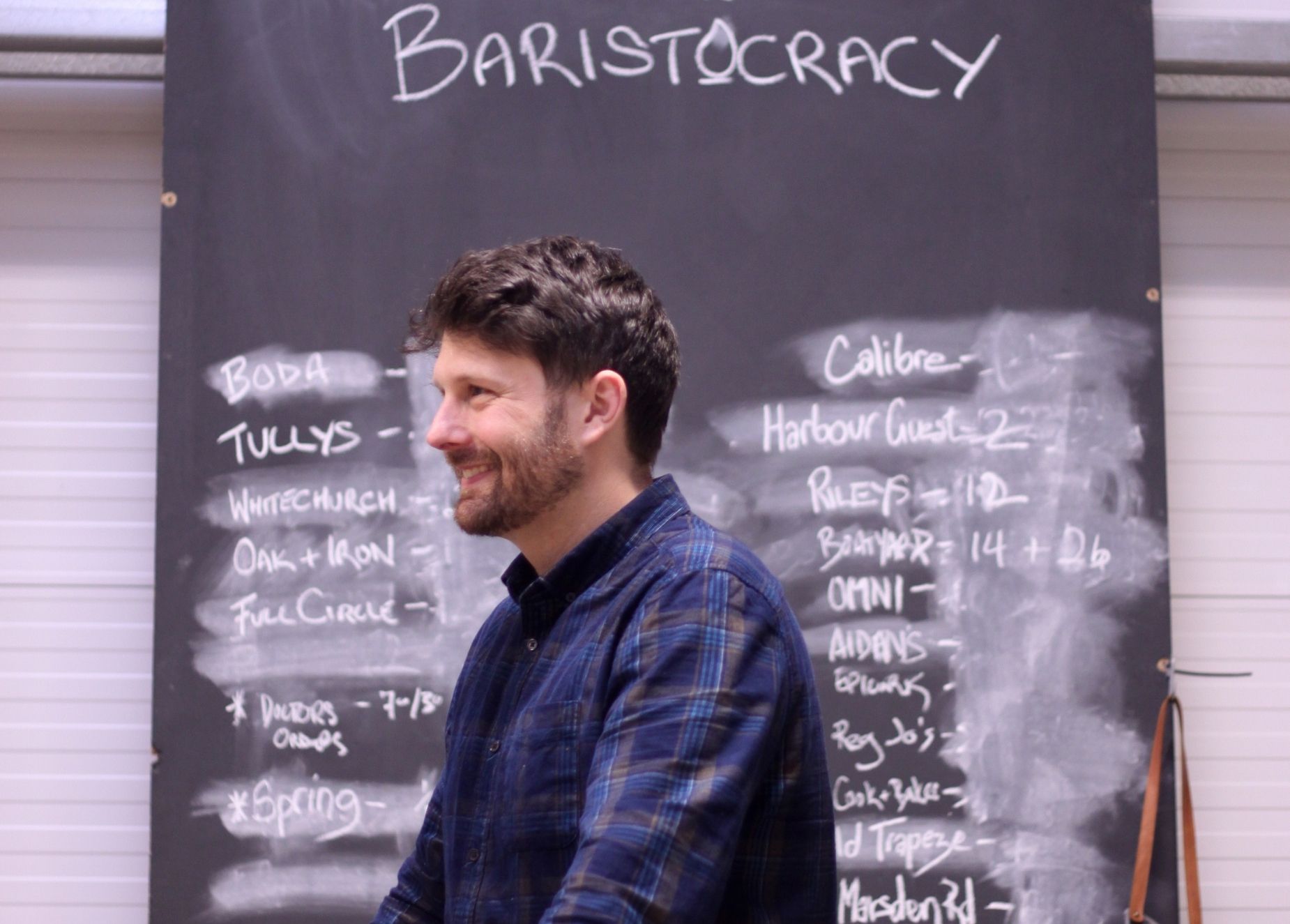 What do you love most about your job?
Do you know that non-specific, pre-work-dread feeling? I never have that. We're often overwhelmed, have a to-do list that never gets any shorter, don't really switch off from work and I have a second job that I do at night so I don't have much time to do anything else. But I wouldn't change it. We're on a constant learning curve, but knowing that we're doing it for ourselves and our family is really motivating. I also love that there's so much to learn about coffee and there's so many more things we'd like to do. The opportunities feel limitless. I love that Alex and I get to work together, we just hang out all day at the roastery, usually with the kids now too, and it's lovely. It has definitely made us even more of a team and we each really appreciate the skills and knowledge that the other brings to the business.
Aside from your own blends, where are you most likely to go for a coffee here in the North East?
There's a growing number of North East roasters all bringing something different to the market. Pumphreys, OCC, Pink Lane, Tynemouth Coffee Company, Gold Box and Fika are all worth checking out. We do tend to support our own customers as we absolutely love them all and we're very fortunate to work with really amazing cafés. But when we get the chance, there are so many brilliant places to visit. I love Flat Caps in Newcastle. It's such a beautiful, relaxed space to sip on a filter coffee. Laneway is lovely too, with a real Melbourne vibe. Brew & Bite on Chillingham Road is fab too, I can't wait to actually sit in there when all this is over. At the coast, we love Kith & Kin in Whitley Bay; their food is amazing and it just has a lovely, friendly vibe.
In your professional opinion, how do you make the best cup of coffee?!
It's worth thinking about coffee as you'd think about cooking. If you don't like the taste of the ingredients you use, you won't like the finished product. The three main ingredients you'll use are coffee, water and milk. Ideally, the coffee should be recently roasted but not too fresh. When coffee is roasted it starts to release gases and, for the first three days or so, it's best left to de-gas. When it's super-fresh, coffee can taste almost fizzy and you won't get the full depth of flavour. As it ages slightly, the flavours will mellow and deepen.
When making espresso-based drinks, it's really important that the grind size is correct and consistent and that the coffee is properly compacted. A well-balanced espresso depends on water being forced through the coffee at a consistent rate. When you see baristas tamping down coffee, they're trying to apply enough pressure to make a smooth, tightly packed cake of coffee. The point of this is to ensure that when the espresso machine forces water through the coffee, every particle is soaked at the same rate. If the coffee is too loosely packed you'll end up with an under-extracted, sour taste.
When it comes to steaming milk for a flat white or latte, avoid over-heating and creating large bubbles. You're trying to create a micro-foam with tiny bubbles that, when swirled, form a gorgeous silky texture and bring out the natural sweetness in the milk. When we steam milk at the roastery, we're aiming for around 60 degrees celsius. I use a milk thermometer which you can get cheaply on Amazon. Alex does it by eye and touch, (of course!).
When it comes to filter, the water temperature and brew time are key. With cafetiere, it's very important to boil the kettle then leave to cool for 3 minutes or to 95 degrees. Pour the slightly-cooled water over the coffee grounds, then leave to brew for a further 3 minutes before slowly pushing the plunger down. There are many forms of filter coffee and each has their own precise instructions for achieving the best brew, but water temperature, grind size and time brewing are key to getting the best out of the coffee you have. The ground coffee we sell via our lovely stockists is perfect for any filter method. If you need espresso grind, contact us directly and we can sort that for you.
What are your next big plans for the future of Baristocracy (COVID-allowing)?
We really want to expand our education offering to include certified courses so we can offer recognised qualifications. My background is in adult education, specifically working with non-English speaking learners, and we'd love to offer courses for people experiencing barriers to finding work, such as refugees and early school leavers. 
I'm still working on Alex for this one, but I'd love to open a café attached to the roastery. Having worked so long in cafés, Alex is well aware of how much work goes into hospitality life, but I'm envisioning partnering with local foodies and having a sort of marketplace, café and roastery with a central open space so kids can play while the grown-ups sip their coffee. This one is very much a pipe-dream, but something to daydream about for now!
Baristocracy is open for click-and-collect and takeaway (no pre-orders needed): Tuesdays 10am–2pm and Sundays 11am–2pm.