7 reasons to visit High Force Hotel and Waterfall, County Durham
This perfect rural retreat isn't just next to one of the most impressive waterfalls in the UK – it's also a dog friendly holiday spot centred around celebrating the pride of the scenic Upper Teesdale, with food, drink and nature offerings to rival the best of the best.
If it's a luxurious rural retreat you're after for your summer staycation, then look no further than High Force Hotel.
Set within an Area of Outstanding Natural Beauty in the beautiful surroundings of Upper Teesdale, High Force Hotel is the perfect base from which to explore everything this nook of the North East has to offer – and we mean everything.
The hotel itself dates back to the early 19th century, when it was built as a country hunting lodge, so your accommodation is steeped in the history of generations of visitors. But simply step outside and you'll discover a wealth of a natural, historical and cultural heritage that cannot fail to ignite the senses and inspire the imagination – not least because of the magnificent waterfall that gives the hotel its name.
Don't believe us? Fair enough. But you might want to check out these 7 exceptionally excellent reasons to stay at High Force Hotel, just in case we can change your mind…
HIGH FORCE WATERFALL
It would be remiss of us to talk about High Force Hotel without mentioning the magnificent waterfall it's named after. Because (spoiler alert) – it's a corker.
Nestled within the North Pennines Area of Outstanding Natural Beauty and part of a Global Geopark, High Force Waterfall and the stunning landscape that surrounds it have been millions of years in the making.
The Waterfall itself is one of the most impressive in England – the River Tees having plunged 21 metres over a daring precipice into this gorge for thousands of years already. But the rocks it reveals are far more ancient, with origins dating back over 300 million years!
Not that this awe-inspiring cascade is the only draw to the area. Surrounded by a stunning upland landscape, visit High Force Waterfall and you'll be greeted by open moors, flower-rich hay meadows, intimate woodland, ancient settlements, tumbling rivers, curious wildlife, a fascinating cultural heritage, some of the rarest flora and fauna in the UK, and a centre-point from which you can enjoy a whole host of adventures. All this, under some of the darkest night skies in Europe.
Have you come to these parts to enjoy a walk or two in the great outdoors? You've come to the right place! Part of the River Tees in the beautiful Upper Teesdale, and located along the Pennine Way footpath, Low Force Waterfall is the perfect place to go nature watching or to stop for a picnic. Only a few miles from High Force, Cow Green Reservoir offers a peaceful moorland walk to the impressive Cauldron Snout Waterfall, on the border between County Durham and Cumbria. Bowlees Visitor Centre, located in the heart of the Durham Dales, offers plenty of inspiration for North Pennines adventures – plus a café and gift shop. And just a short walk from the car park you'll find popular local beauty spots Summerhill Force and Gibson's Cave. So, you'll never be short of inspiration!
High Force even hosts special interest breaks throughout the year, so you can dedicate some quality time to your chosen hobby in the relaxing, unspoilt scenery of these parts.
So, if you fancy making like JMW Turner, who famously painted the waterfall back in 1822, and try your own hand at capturing the changing colour palette of this vista in art, you'd like to lend a little love to your lens and dust off your photography skills, or you want to sit back and soak up the dark skies with a little stargazing, you've come to the right place. (Bonus points if you can spot the mystical aurora of the Northern Lights – it has been known!). 
FIND OUT MORE
EAT AT HIGH FORCE HOTEL
An army marches on its stomach, right? And if you're expected to spend every day of your staycation getting out and about in the great outdoors and exploring everything this nook of the North East has to offer, then you're going to need to fuel up with only the finest cuisine.
Which, handily enough, is just what you'll find at High Force Hotel. Serving delicious, home-cooked food from morning 'til night, all in a relaxed setting – we're talking breakfast, snacks, light bites and lunches right through to decadent evening dining – you'll not struggle to tickle your tastebuds during your stay.
At the heart of every dish served here? Local produce. At the High Force Hotel, an integral part of their ethos celebrates local producers, and their seasonal menus always include locally sourced ingredients – whether it's the free-range hen and duck eggs in your full English, which are supplied from High Beverley Farm just a few miles away, the freshly ground coffee that makes you feel human from local artisan roaster Lonton Coffee Co.,or the Raby Venison and Longhorn Beef on the evening menu, the meals you'll tuck into at High Force Hotel are created with a conscience.
Are you after an extra helping of comfort with your culinary offerings? Your wish is the High Force Hotel team's command. You can choose to eat in one of their two cosy bars (complete with open fires and log-burning stoves), in the tearoom, outdoors on the patio, in the courtyard or in the garden here, and you can still expect the same exceptional level of customer service. Or you can relax in their beautiful Garden Room, which offers a cosy fine dining experience and can even be transformed into a private event space.
Fancy a snack on the go? Don't forget about High Force Kiosk, by the hotel's car park, which is the handiest place to pick up ice cream from local creamery Brymor.
HLN's Top Tip: High Force Hotel is quickly making its mark in the local foodie scene for their traditional Sunday lunches. Don't miss them.
EXPLORE THE MENUS
DRINK AT HIGH FORCE HOTEL
Raise your glasses to the taste of Teesdale at High Force Hotel, because the team here really are passionate about looking after their beverages in the good, old fashioned way – with excellent cellar management and knowledgeable staff who know how to pull the perfect pint and pour the perfect portion.
Beer lovers, rejoice – you can try a wealth of local real ales here, including High Force Hotel's guest pulls (which change every week), as well as premium quality continental lagers and refreshing ciders.
Who loves gin? Us, too. That's why we've already sampled plenty of the fantastic selection of gin here, both in cocktails and as the traditional G&T serves, (well, it would be rude not to, wouldn't it?).
For those of us partial to a glass of wine or too, High Force Hotel's well-stocked wine cellar gives us the opportunity to sample grapes from around the world. Not sure what to order? One of the friendly team here will be only too happy to give you a helping hand in recommending the perfect wine pairing to go with any of the dishes on their food menus, or to suit your particular palette.
Not that the serves here are all about alcoholic drinks. There is a wide selection of bottled drinks available behind the bars too, including non-alcoholic beer and lager. And while High Force Hotel have selected the very best in all that they do, tea and coffee are no exemption; enjoy your brew from TeaPigs, who have been carefully chosen for their sustainability and commitment to giving back to communities. Or wake up and smell the roasting coffee beans of Lonton Coffee Co., a small collection of artisans who roast only the finest coffee.
Chin, chin…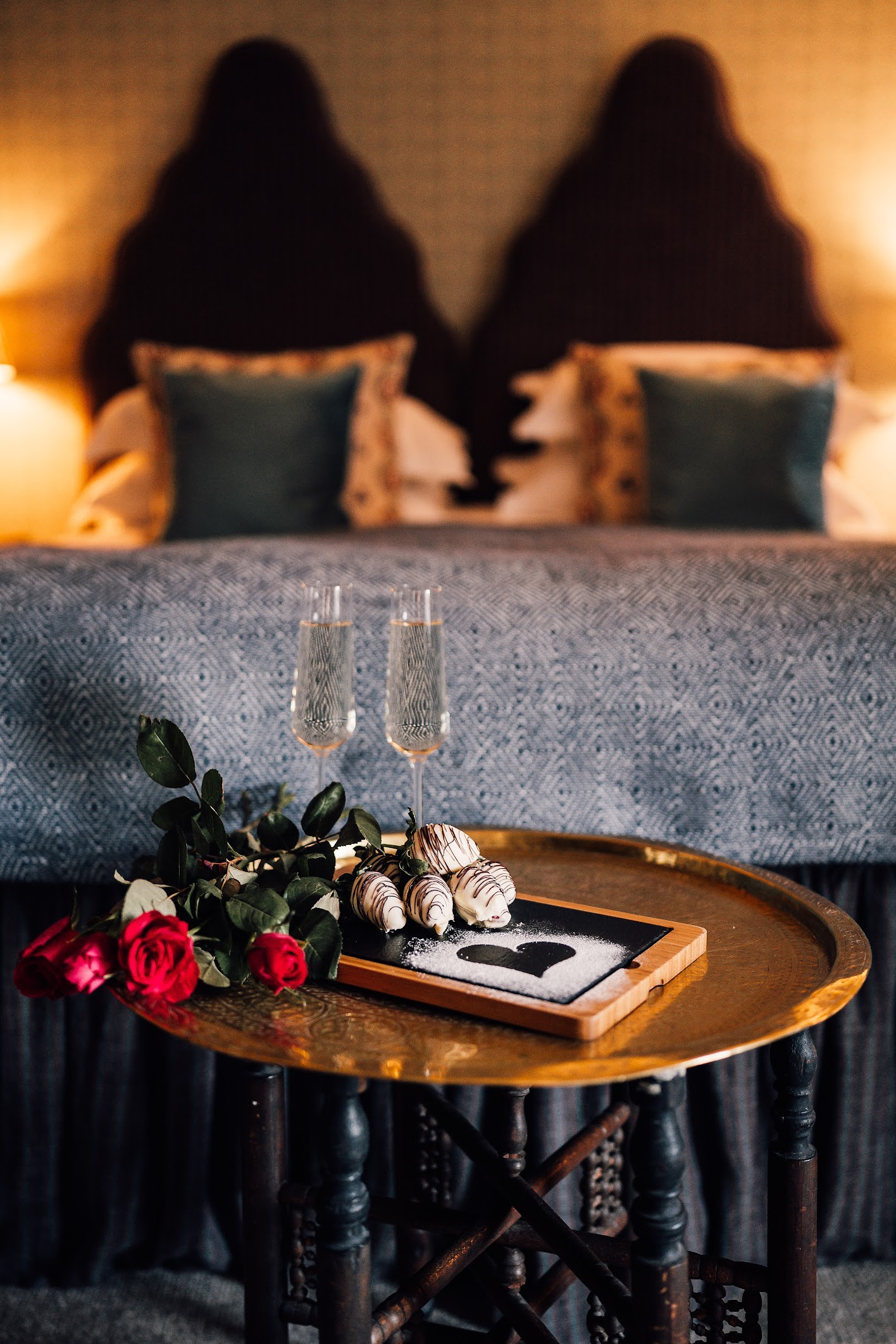 SLEEP AT HIGH FORCE HOTEL
What better way to relax after a long day's exploring, eating, drinking and making merry in ways that only you know how, than to sink into a sumptuous deluxe super king bed, surrounded in rustic countryside luxury?
Sounds pretty perfect, right? And luckily for all of us, at High Force Hotel we're spoilt for choice in this particular style of opulent accommodation. Each one of their 10, individually designed bedrooms has been newly refurbished and finished to a tastefully high standard, is bursting with style and character and retains many of the building's original Victorian features.
The hotel itself effortlessly combines country charm with fresh, modern facilities to capture the rural spirit of your surroundings – celebrating the acres of agricultural land, vast woodlands and unique landscapes of Upper Teesdale, without sacrificing any of your home comforts.
And while you can take your pick from the Deluxe Super King, Classic, Double or Single room options depending on the size of your party, most rooms can be twinned if required and all are fully equipped with a range of beautiful Temple Spa toiletries, a selection of tea and freshly ground coffee, snug duvets and luxury linen – so a good night's sleep is a given.
BOOK YOUR OVERNIGHT STAY
DOG FRIENDLY ACCOMODATION
A holiday isn't really a holiday if you have to leave your dog behind, is it? It feels like a piece of your heart is missing; like you've left a limb behind, and you can't seem to relax as much as you know you should because you can't help thinking about your little four-legged fur baby and if they're ok.
Well, worry no more guys – High Force Hotel is a dog friendly accommodation option that refuses to sacrifice style for comfort, or luxury for a few muddy pawprints.
Whether you're visiting the area for a stroll to the Waterfall, you're stopping by for a spot of Sunday lunch, or you do decide to stay the night (or two), your dogs will be made to feel most welcome every step of the way.
Simply ask the High Force Hotel team about their dog friendly rooms and let them know about your pooch at the time of booking and they'll even throw in some doggie treats ready for the arrival of your best boy or girl.
Where this hotel is handily situated, we know one thing for sure – you won't run out of routes for 'walkies' anytime soon!
HLN Top Tip: A fee of £10 per stay does apply to dog friendly bookings. But it seems a small price to pay to have your best friend on holiday with you.  

RABY CASTLE
Stay at High Force Hotel and you'll enjoy a cornucopia of culture on your doorstep. Not least one of England's finest medieval castles, which is practically the hotel's neighbour.
Originally built as a Viking settlement, Raby Castle as it stands today was built for the mighty dynasty of the Nevills in the 14th century. A great fortress standing proud, powerful and defiant against the passage of time, it has housed the mother of two kings of England, was the scene of the plotting of the Rising of the North, and was a Parliamentary stronghold during the English Civil War.
But Raby Castle's fascinating history isn't the only thing to explore. The impressive collection of art, artefacts and 18th and 19th century carriages you'll find within its walls are matched only by the 200 acres of lush green parkland beyond them, where herds of red and fallow deer make their home. Satisfy your wanderlust and embark on your next adventure by following any one of their walking trails to help you soak up the spectacular scenery here. There's even a Woodland Adventure Playground if the kids still need to run off a little steam when you're done.
Worked up an appetite from all that excitement? Pop into Raby Castle's new luxury Yurt Café and refuel by indulging in a delicious menu of both sweet and savoury delicacies.
EXPLORE RABY CASTLE
WHAT'S ON AT RABY
It's always satisfying to be the captain of your own destiny when you go on staycation, isn't it? But that's not to say you want to create your own fun 100% of the time. The odd local festival, a themed night out, some activity days or special performances always help schedule your stay.
Which is another string to the High Force Hotel's bow – there's always something happening here. Like, all the time.
And it's all there for us to enjoy. So, whether you want to join in the celebrations at their Jubilee Street Party and themed Picnic in the Park, or you'd prefer sampling the wares in their Summer Seasonal Market, you'd love to admire Fiats, Ferraris and every Italian car in between at the Auto Italia showcase at Raby Castle, or you fancy indulging in a little open-air theatre, you can enjoy the cream of the cultural crop here.
And, if that little lot isn't quite enough for you, you're only a hop, skip and jump away from miles of footpaths and cycle paths along the Pennine Way, as well as The Bowes Museum, Beamish Museum and Durham and Newcastle city centres.
Check out what's on at High Force Hotel and Waterfall and at Raby this summer by seeing their full listings here
FIND OUT MORE
To discover even more reasons to stay at High Force Hotel, visit their website and follow them on Facebook and Instagram.
WHERE IS HIGH FORCE HOTEL AND WATERFALL?
High Force Hotel & Waterfall, Alston Road, Forest-in-Teesdale, County Durham DL12 0XH
Tel: (+44) 01833 622336
Email: [email protected]