How Ad Gefrin's new whisky and gin captures Northumberland's heritage in every drop
Northumberland's first whisky distillery and Anglo-Saxon museum, Ad Gefrin has put the pretty village of Wooler on the map – here's how.
It's been the talk of Northumberland ever since the multi-million-pound development was announced in 2018, now, Anglo-Saxon museum and Northumberland's first whisky distillery, Ad Gefrin is open.
After a scenic one-hour drive from Newcastle, you'll find Ad Gefrin nestled within the Cheviot Hills and the pretty village of Wooler. And since opening earlier this year, the highly anticipated new Northumberland visitor destination has already put the pretty village of Wooler on the map.
Inspired by a 7th-century royal summer palace that was discovered only four miles away from their site, Ad Gefrin holds historical significance dating back to the Anglo-Saxon era. And now brings stories of the forgotten kings and queens to life while uniting people together to celebrate a new golden age for Northumbria.
Here you can embark on a journey that explores the region's rich history in the immersive museum and discover behind the scenes with a distillery tour, witnessing first-hand the magic that unfolds in every bottle. Plus, the best part is you get a tasting experience to try the spirits for yourself.
Not to mention the all-day bar and bistro, pretty grounds to relax in and a shop – an inspiring space where you will find unique gifts for any occasion – you can really spend a full day here.
But let's get back to the distillery, where centuries of tradition meet the art of modern craftsmanship. Ad Gefrin has re-awakened the Northumbrian tradition of whisky distilling that has slept for over 200 years and invites us to step back in time to the royal court of the 7th-century Northumbrian kings and queens to experience the ancient spirit of hospitality.
So, whether you're a seasoned connoisseur or a curious newcomer to the world of spirits, the Ad Gefrin collection of spirits invites us all to raise a glass toasting to the timeless spirit of Northumberland's heritage.
HLN TOP TIP: Want to know more about Ad Gefrin? Here's everything you need to know.
THE SPIRIT OF AD GEFRIN
Ad Gefrin brings timeless hospitality and commonality from the local landscape that centuries ago, was rich enough to feed the royal court spiritually and physically, and today produces some of the finest malting barley and purest Cheviot water that is being used to make their single malt whisky.
Although keen to embrace the legacy of the Northumbrian Golden Age century and being respectful of time-honoured methods and with traditional touches, Ad Gefrin is a distillery that isn't afraid to innovate, using the latest technologies and contemporary processes.
The royal palace of Ad Gefrin was a place where tales were woven, friendships were kindled, and lasting connections were forged. Today, the distillery pride themselves on whisky and gin that encapsulates that spirit of belonging, sharing moments to be remembered whilst indulging in the flavours of Northumberland's history.
THE SPIRITS
The distillery's spirits have a strong provenance and there is nothing incidental in their makeup. They reflect who Ad Gefrin is and celebrates and captures the Northumbrian Golden Age in every drop, surrounded by the same landscape that inspired our 7th-century ancestors.
Tácnbora – £42.50
Tácnbora brings together Irish grain whiskey and Scottish grain and malt whiskies, representing two of the four regional origins of the people who populated the kingdom of Northumbria with additional wood enhancement in our Northumbrian heartland. This whisky is aged in ex-bourbon, virgin American oak and oloroso sherry casks, creating a distinctive and palatable spirit.
The history
The ancient Tácnbora (standard bearer) went before King Edwin wherever he went in the 7th century, announcing the arrival of Northumbrian royalty. Their story is told anew so it's only fitting that Ad Gefrin named their first blend after this standard bearer whilst they wait for the arrival of the single malt, born of a centuries-old distilling tradition.
Tasting notes
Nose: honey, candied citrus peel, vanilla and cherries
Palette: vanilla, cream soda, sultanas and nutmeg
Finish: sweet citrus, vanilla and honey
BUY NOW
TÁCNBORA WHISKY COCKTAIL RECIPE
Brémelberie
Ingredients:          
Ice cubes
Blackberries
10ml of honey syrup
35ml of Tácnbora
10ml crème de mûre
25ml of orange juice
Method:
Muddle blackberries and honey together
Shake together with Tácnbora, crème de mûre and orange juice
Strain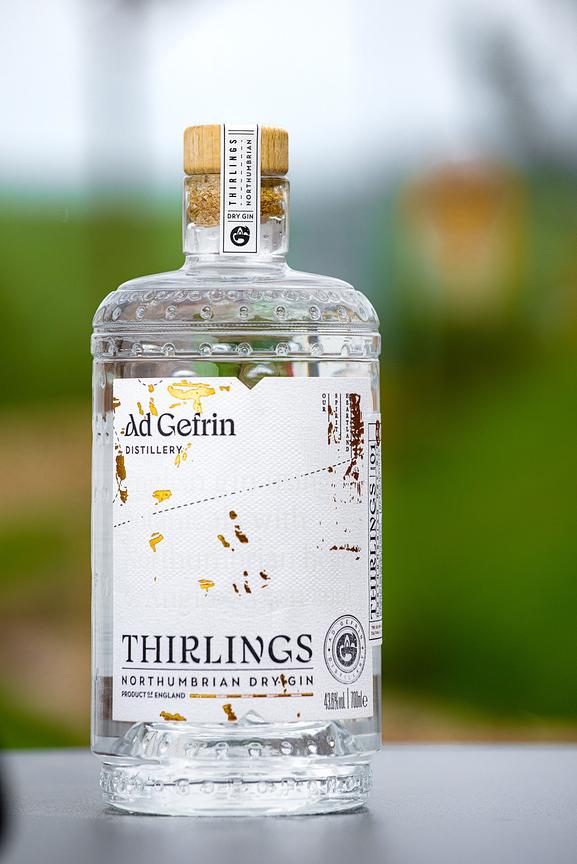 Thirlings Dry Gin – £39.00
Thirlings Dry Gin is an invitation to embrace the traditions of the past while celebrating the vibrant present. Crafted with meticulous care and using botanicals with a Northumbrian heart and Anglo-Saxon soul, Thirlings Dry Gin is inspired by the flavours of Northumberland, capturing the essence of Ad Gefrin's natural surroundings: heather and pine from the hills, elderberry and dill from the hedgerow, and Irish moss and sea buckthorn from the coast.
The history
The 7th century thegns who inhabited Thirlings, were responsible for overseeing the cultivation of the land, safeguarding its natural abundance and creating feasts befitting the Northumbrian kings and queens who set up court in their midst every summer.
Tasting notes
Nose: juniper, pine, citrus lemon, heather floral and cinnamon spice
Palate: green freshness, dill, juniper, bright citrus, lemon drops, slight sweetness up front and smooth
Finish: juniper, sweet orange citrus, spice, full-bodied, bitter, saline and dry
BUY NOW
THIRLINGS GIN COCKTAIL RECIPE
Midsomer
Ingredients:
30ml of Thirlings Gin
Fresh cucumber, sliced
Fresh mint, approx. 10 leaves
20ml of elderflower liqueur
50ml of cloudy apple juice
10ml of lime juice, 10ml
10ml of gomme 10ml
Ice
Method
Add fresh cucumber (a few slices) and sugar syrup to the cocktail shaker and muddle well
Add all the remaining ingredients with ice and shake well
Strain into a martini glass and decorate with a slice of cucumber