Forest Spa at Middleton Lodge Estate review: "Looking for a spa that connects you to nature? This is it."
It's rare that we find a spa that has a genuine point of difference, but this new opening in North Yorkshire has done just that – trust us, it was worth the wait.
Middleton Lodge Estate in North Yorkshire is home to one of the best hotels in the UK, two award-winning restaurants and now, the impressive Forest Spa.
Described as 'an entirely original offering exclusive to Middleton Lodge Estate' our editor Laura headed down to find out what sets it apart…
At the tender age of 36, I've been to many spas in my time – from luxury hotel spas in London, Dubai and Canada, to the best that the North East has to offer. That's not a brag, by the way. I'm telling you because when Forest Spa defines itself as original, I was intrigued to find out what exactly a spa could do to set itself apart so uniquely.
My conclusion? It's the concept.
The creative director behind Forest Spa is Rebecca Tappin who deserves the highest praise for bringing her vision to life. Middleton Lodge Estate is a strong establishment which could have easily created a luxurious but run-of-the mill spa for its guests and visitors.
But instead, she took inspiration from 'forest bathing' – a mindfulness concept from Japan that involves utilising all of your senses in a forest environment – and as a result has created an elemental sanctuary which, throughout every detail, integrates with its beautiful rural North Yorkshire setting.
THE SETTING
Arriving at Forest Spa isn't your typical dim lighting, piped spa music and hushed voices vibe.
The aesthetic is rustic – filled with natural light from windows that let in the surrounding woodland views. We visited in summer but elements like the wood burning stoves in almost every room made me think this will be a wonderful sanctuary in winter months too.
The pool house – is where you arrive, where you can relax and where you'll eat lunch (although you can opt for this on the terrace in good weather). A large log burning stove sits at the centre and it has views across the outdoor pool.
Heated outdoor pool – the heart of the spa is a large 15m by 7m heated outdoor pool (suitably heated, like a beautiful outdoor bath).
Thermal spa area – on the other side of the pool, there's a relaxation area with a fireplace and pool views, a sauna with panoramic views of the estate's fields and woodland, a tadelakt steam room and an arch stone plunge pool.
Covered outdoor hot tub – to take in the views of the pool and countryside.
Treatment huts – where you can escape for your treatments. Each one has been designed to look out onto nature and are so cosy and tranquil inside. Two are 'bathing huts', equipped with tin baths and woodburning stoves.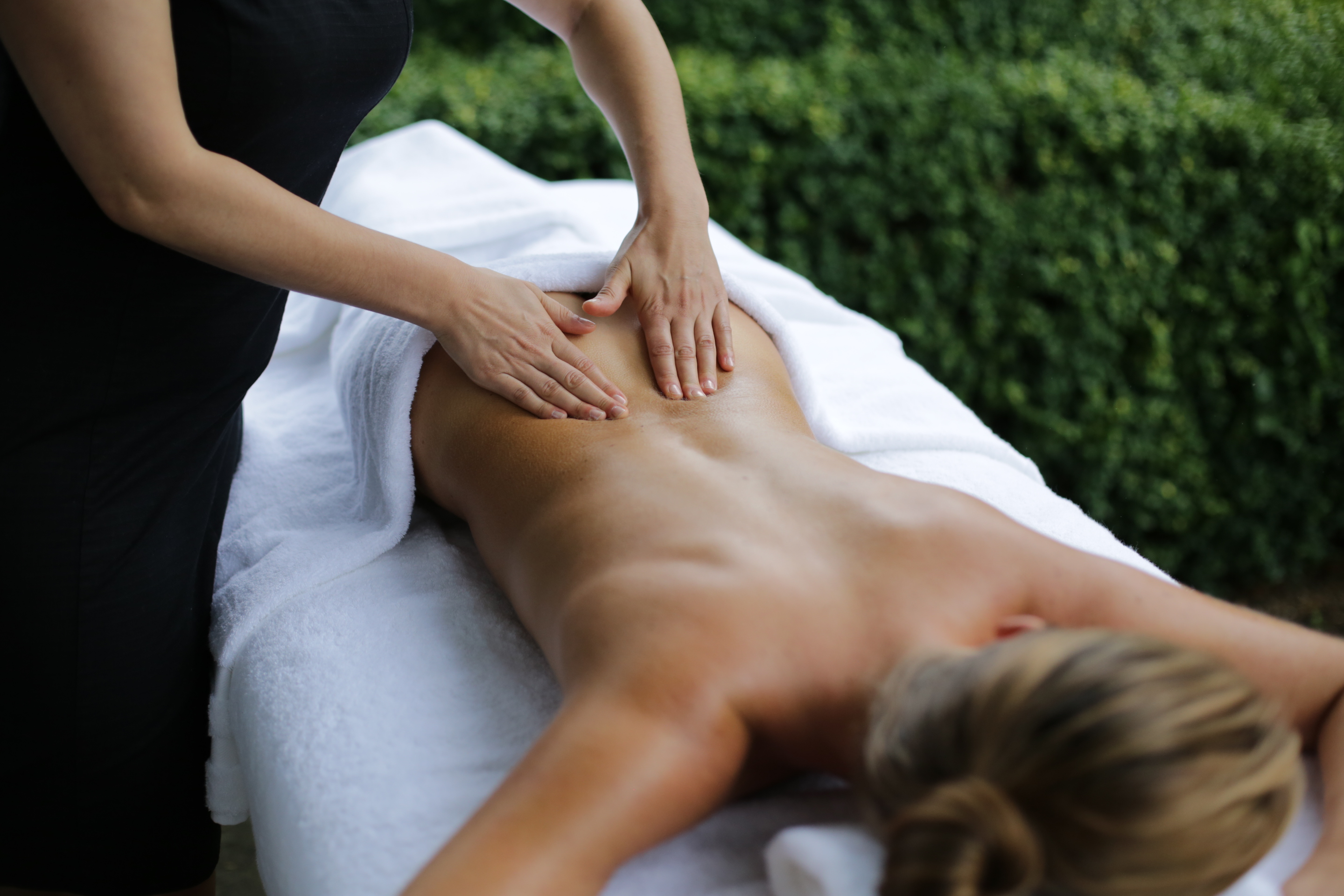 Half Day Spa: £155 (Monday to Thursday) | £170 (Friday to Sunday) 
Morning or afternoon half-day spa experience, including a 45-minute treatment and spa menu.
Day Spa: £200 (Monday to Thursday) | £220 (Friday to Sunday) 
Full-day spa experience, including a 60-minute treatment ritual (choice of massage, facial, or body scrub) and lunch in the pool house from the spa menu.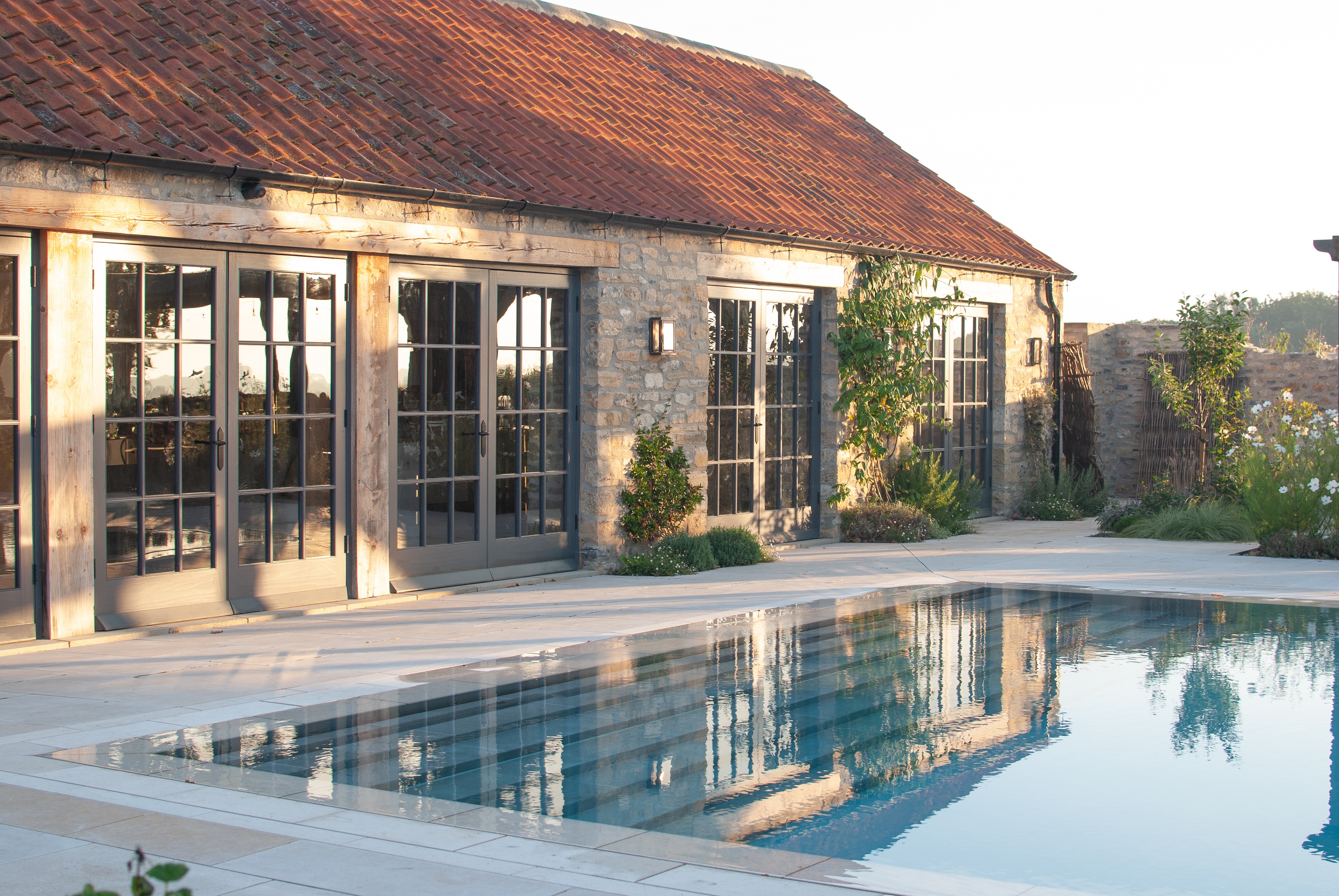 Day Retreat: £300 (Monday to Thursday) | £330 (Friday to Sunday) 
Extensive full-day spa experience, including a two-hour treatment ritual, a rejuvenating bathing experience, and lunch in the pool house from the spa menu.
Evening Ritual: £75 (Monday to Thursday) | £95 (Friday to Sunday) 
Evening spa experience, including a two-course dinner at the Coach House restaurant or a four-course tasting menu at Forge on Thursday to Sunday evenings.